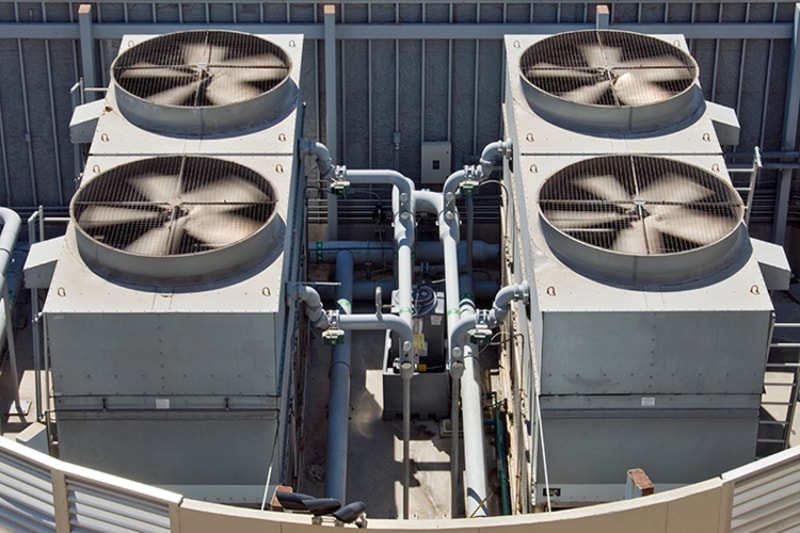 Our team at Skyward Heating, Air & Plumbing is here to help you create a comfortable and safe environment in your Madison building.
We specialize in commercial heating solutions for Alabama buildings of all shapes and sizes. We understand that every business is unique in terms of use, layout, ventilation, and other demands. Whatever the challenge, you can count on our licensed professionals to offer technology-driven solutions that meet your needs and budget.
At Skyward Heating, Air & Plumbing, our experts install, replace, maintain, and repair all makes, models, and sizes of heating, ventilation, and air conditioning (HVAC) equipment with minimal disruption to your employees, tenants, or customers. We work closely with contractors, engineers, architects, and building managers to ensure your heating and cooling requirements are met.
Our many years of experience, along with our constant training and cutting-edge equipment, allow us to offer top-notch services to every client.
Commercial Heating Solutions in Madison, AL
Are you starting a new construction project from the ground up, replacing older equipment, or retrofitting a new system into an older building? Our team can help. We provide state-of-the-art heating solutions for:
Warehouses
Garages
K–12 schools and higher education
Offices
Government buildings
Healthcare buildings
Retail
Multi-family
Restaurants
Places of worship
Sports complexes
Assistant-living facilities
And more!
Commercial Boilers
Many of our Madison schools, apartments, and manufacturing facilities rely on commercial boilers for comfort heating and manufacturing or industrial needs. These systems are powerful and reliable. When it comes time to replace your boiler, we can install a more energy-efficient model that will cut down your energy use and reduce both your utility costs and carbon footprint.
Boilers last up to 30 years with proper maintenance—but similar to any piece of equipment with moving parts, they lose efficiency over time. If your repairs calls are becoming more frequent and your energy costs are steadily increasing, let's determine if it is time to upgrade.
Boilers will make noises, but if you hear a loud clanking sound repeating itself, that's typically an indication of a blockage or pressure issue. Call us right away so our repair team can address the problem before it turns into a costly repair. The same for leaks—they could mean it is time for a replacement model.
Commercial Rooftop Units
Save space with packaged rooftop units (RTUs) to provide your building with year-round heating and air conditioning. Our team can install and maintain your commercial rooftop unit so that it operates efficiently in all types of weather.
Rooftop units save space inside your building, allow for a quieter operation, and are cost efficient to install and maintain. You can trust our heating and cooling specialists to size the correct rooftop unit for your needs.
When it comes to maintaining your rooftop unit, our team will calibrate the thermostats, clean the components such as the evaporator and condenser coils, and winterize your cooling system for colder temperatures. Give us a call for a free consultation.
Commercial Air Handlers
Air handler units (AHUs) come in all shapes and sizes, depending on your building's needs. They can provide heating and cooling to several floors or the entire building.
They are an essential part of your HVAC system—as they are used to regulate and circulate air that enters your building from the outside. They are the primary regulator of your indoor air quality (IAQ).
You can count on Skyward Heating, Air & Plumbing to install your commercial air handler correctly so that you enjoy the most comfort and performance. We install and maintain commercial systems that seamlessly integrate with your building's size and use.
Commercial Unit Heaters
Are there major temperature swings throughout your warehouse? You can count on Skyward Heating, Air & Plumbing to install your next commercial unit heater. These systems provide unsurpassed comfort for factories, schools, warehouses, sports complexes—any large building where doors are frequently opened and closed.
You can choose from several models depending on your needs. Most unit heaters can be customized to fit any business, while some are designed specifically for areas where chemicals or gases might be in use. Our certified experts will recommend the best system for your needs and budget.
Call Us Today for Your Commercial Heating Needs
Skyward Heating, Air & Plumbing can help you save money, reduce your carbon footprint, and improve the comfort levels of your Madison, AL building. Call us today at 256-203-6223 or request service online.