Carrier TC-PHP01-A Traditional Thermostat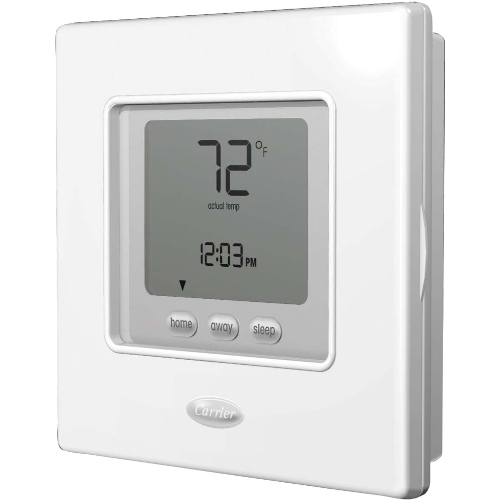 Compatible with heat pumps and offers standard comfort management with the ability to set customized schedules.
Overview
This Comfort model is designed to give you the benefits of energy saving programming features in a simple, easy-to-read and attractive thermostat. It allows both weekday/weekend programming and simple, Touch-N-Go programming for one-button, energy-saving, quick settings when you're on the go or ready for sleep.
This model is configured for systems using a heat pump for cooling and seasonal heating.
Why This Traditional Thermostat Is Right for You
Comfort Features: Standard comfort features with the ability to set customized comfort schedules.
Energy Savings: Standard energy saving intelligence. Set customized schedules to help save on your heating and cooling energy costs when you are away.
Heat Pump Compatible: Can be installed with to control you heat pump heating and cooling system.
Zoning: Compatible with zoning panels for customized zoned comfort.